We wanted to take this time to discuss the solutions that we have in place for the new Colorado MED rules and Metrc Bulletin 99. Metrc has released a Support Bulletin (CO_IB_12.27.21) which can be found here. These new rules take effect as of January 1st, 2022. We are working diligently to make this transition as seamless as possible, and as we are given access to the new functionality, we are adding it to Adilas, testing it, and rolling it out.
New Patient Lookup Status (Permissions within Metrc): If a user receives the following error, they will need to log into Metrc and change their permissions to allow for "Patient Lookup Status" (see below for instructions). Not all Users will be able to give themselves this permission in METRC, unless they are granted Admin permissions already. An Admin User might have to add this Permission to all of their Users that need to do sales.

Within Metrc, this new permission will enable the user a Patient Status Lookup feature, to prevent Medical Stores from administering sales beyond the Patient's daily limit amount. In order for our Metrc API within Adilas to be able to lookup a patient license number, users will need to go into their Metrc Permissions and select the option under Search Menu titled "Patient Status Lookup".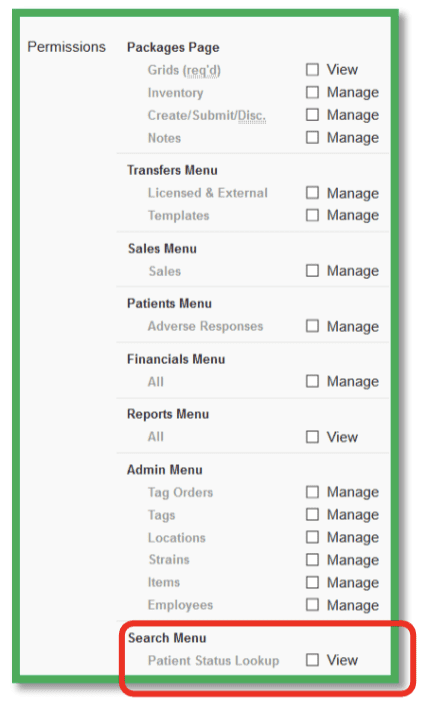 Patient Membership Updates: Metrc will require validation of the Patient's License Number at the point of sale to aid Medical Stores with dispensing the proper amount of product(s) to patients based on the Patient Limits established by statute or by the Patient's physician.
Our gram controller has been updated to use the Patient's license number to make a call to Metrc and get the status of the Patient's allotted THC levels. When adding items to the cart, the gram controller will update the equivalency rates of the items that each Patient is allowed to purchase based on their daily limits. Since we have not had access to test this feature prior to the release day, we will be monitoring the functionality and working through any issues as best we can.
Below is an example of the gram controller in the Kush Shopping Cart and Classic Shopping Cart. Users will need to select the gear icon to the left of the gram control to set the equivalency rates of their categories based on the new rules within Bulletin 99. (Note: This display may change as we continue to make progress with these new requirements.)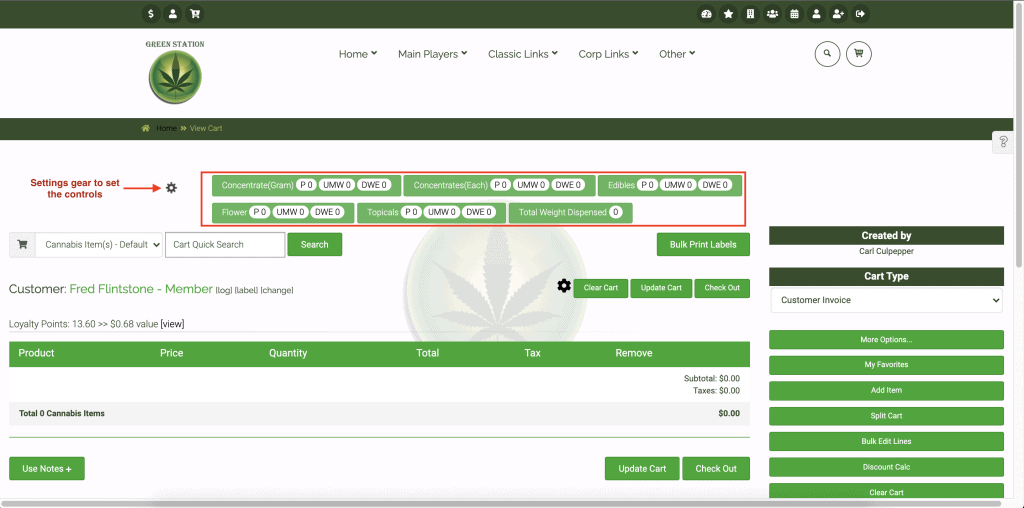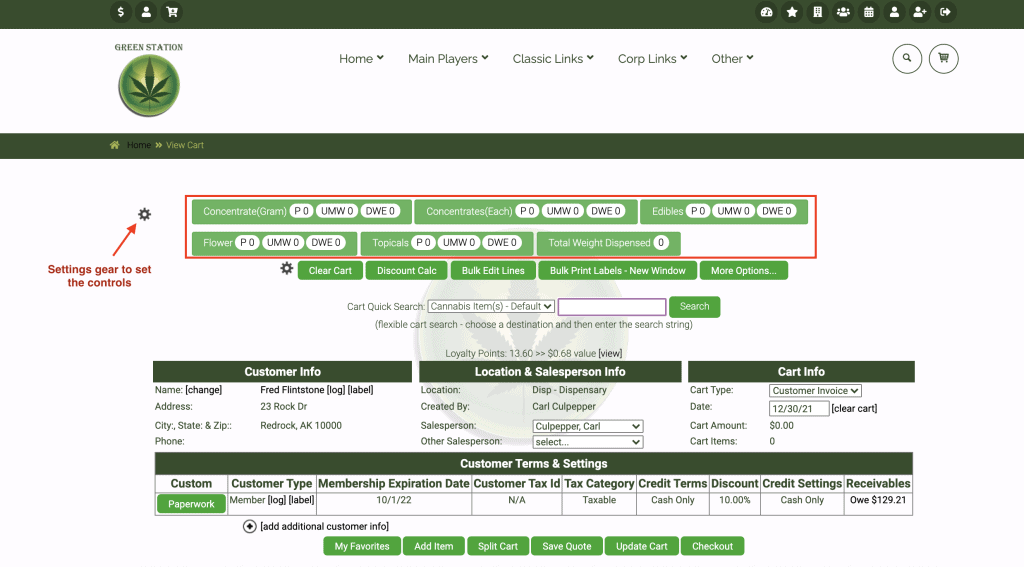 New Item Requirements by Category: Per Bulletin 99, users will need to update existing items to include THC%, Unit Weight, and/or Unit THC Content, as well as input this information when they are adding new items to Metrc.
Since we have not had access to the new fields within Metrc prior to January 1st, we completed limited testing on this functionality. However, our API has the required fields in place and we believe that when you "Add/Edit Item" from the Metrc API Homepage, these fields will automatically pull from the item, as long as that information has been entered into Metrc. If an existing item has not been updated, then the user may need to enter that information for the package on the sales receipt within Metrc.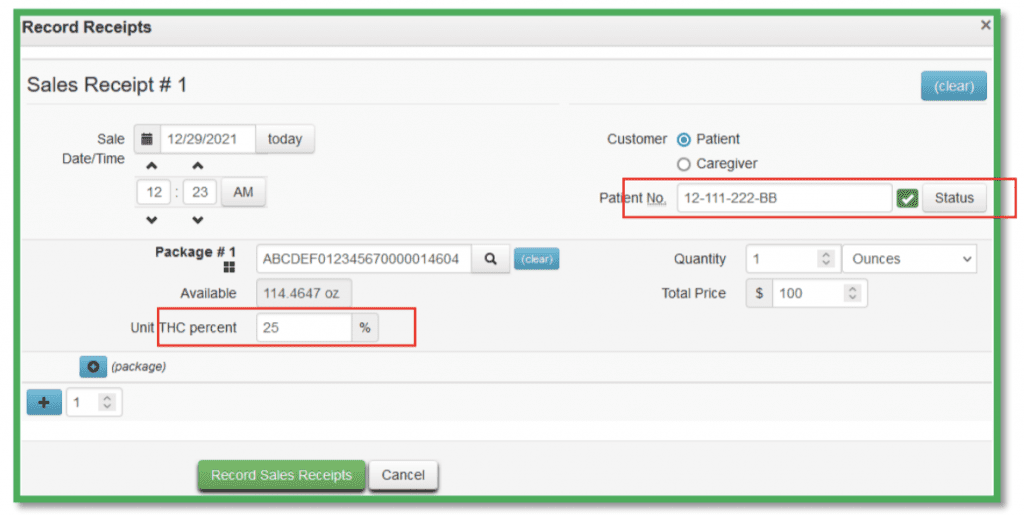 Users may also need to "Resync" their inventory from Metrc in order to pull these new fields.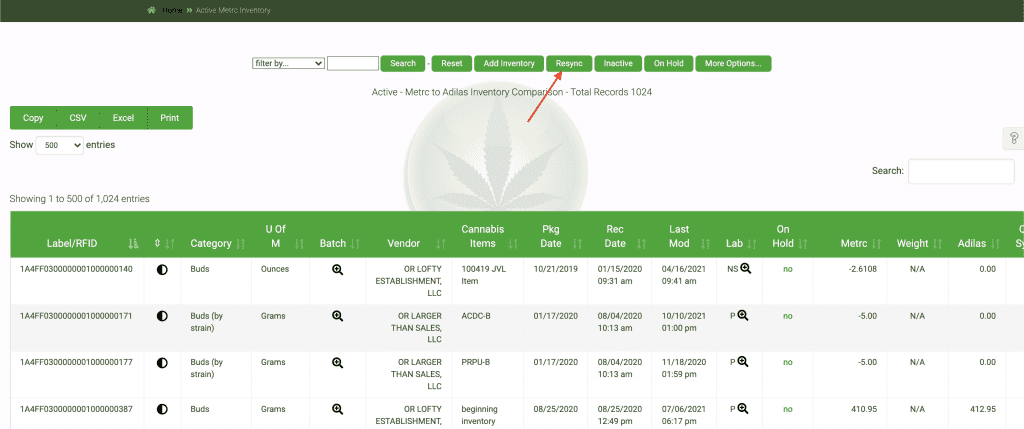 Live Transactional Sales Reporting: once the sale has been completed, our Live Transactional Sales API will report the sale in real-time to Metrc. If you are unsure if you're facility is set up for Live Transactional Reporting, please read our most recent blog post here, as this is a new requirement that all facilities must utilize transactional reporting over CSV/end-of-day reporting.
Below is a screenshot of the Third-Party Solutions page to check your settings. Contact us to make any changes.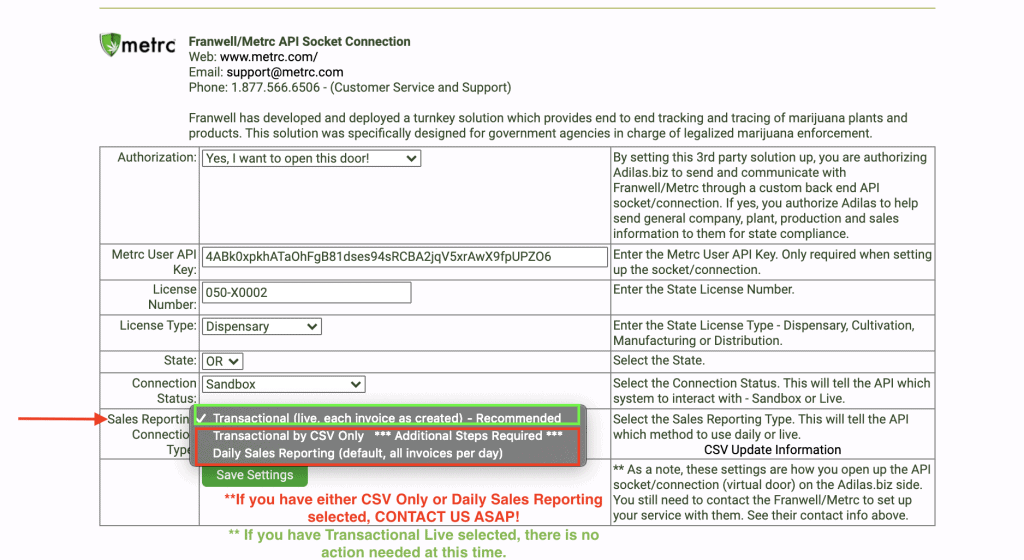 We appreciate your patience as we work through these new requirements and continue to improve our functionality for our customers.
As always, if you have any questions or concerns, please do not hesitate to contact us via phone at 720-740-3076 or via email at support@adilas.biz