There is a way to see your inventory items as each, even though METRC requires you to sell them as grams.
To start, you will need to add a category for Prepackaged Cannabis. From the Parts Homepage, click on the 'More Options' button at the top of the page. Then click on Add/Edit Item Categories.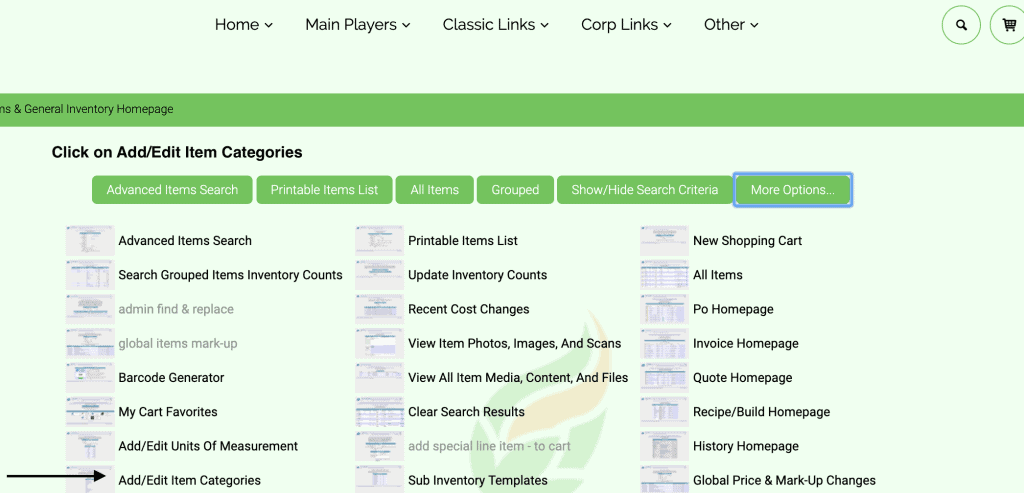 Once you have added your new category, make sure you go the Sub Inventory Templates to activate your new category.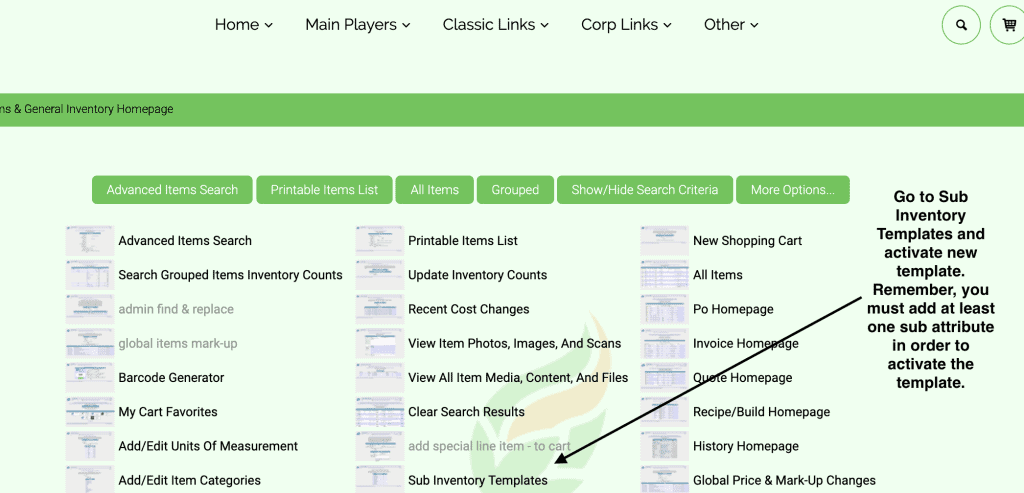 Now you must make sure your parent items are set up as each for the unit of measurement. From the Parts Homepage, choose Prepackaged Cannabis as your search category and type 'all' in the item search field to bring up all parent items that need to be edited. You will also need to make sure that the weight field is filled in for each parent item. Example: if you have prepackaged 3.5grams, you will need to enter 3.5 in the weight field. If it is 1gram prepackaged, you should enter 1 in the weight field.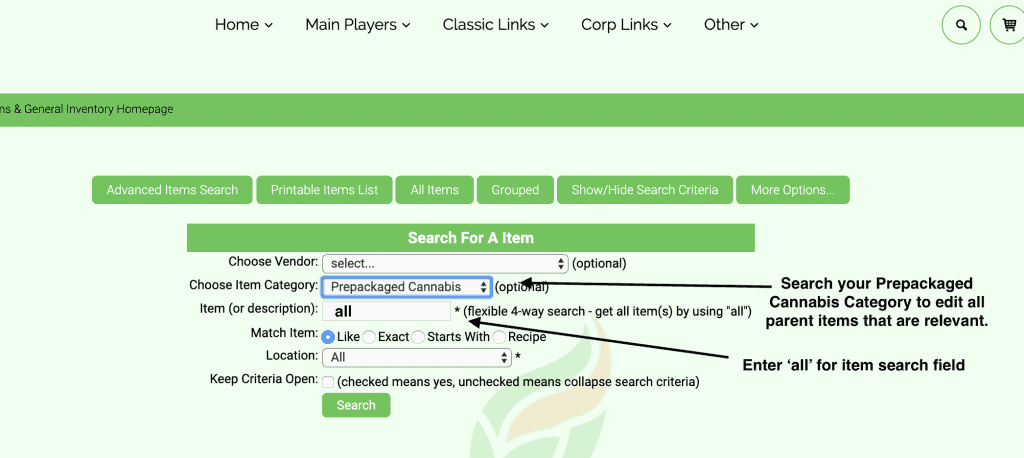 Once all of your parent items are edited, navigate to the METRC API Homepage, and click on the gear at the top of the page.

Follow the directions below….
This is a Metrc special settings page. 

Using these settings will allow Inventory
to be received and tracked in adilas,
using a Count based (usually Each) method.

Transactional Reporting Only
The entire category selected will be reported as the weight based
Unit of Measurement to Metrc. (example – Grams)
Many states are now requiring Dispensary Inventory to be
packaged prior to delivery to the facility.

This functionality allows your physical inventory to match count
wise. (for instance 3 individual packages of 3.5 Grams)

When using these settings, there are multiple reports that include
special conversions. (Metrc Inventory Comparison)
Add a check mark to the Inventory Categories below to activate.
**** The Parent Weight field is then required. ****
This value is used to calculate the Quantity.
If a category is not Checked & Selected, the normal Quantity field
and UofM will be used.
Check the box next to Prepackaged Cannabis. Select grams for the unit of measurement. (There are other options to choose from, and this update is highlighting the grams to each scenario.)
Once all of these settings are in place, you can receive inventory through the METRC API, and adilas will convert the quantity to each, as well as update the cost so that your PO will be accurate.
Go to your Add Inventory page from the METRC API Homepage. Select the boxes for the inventory items you wish to bring in to your system.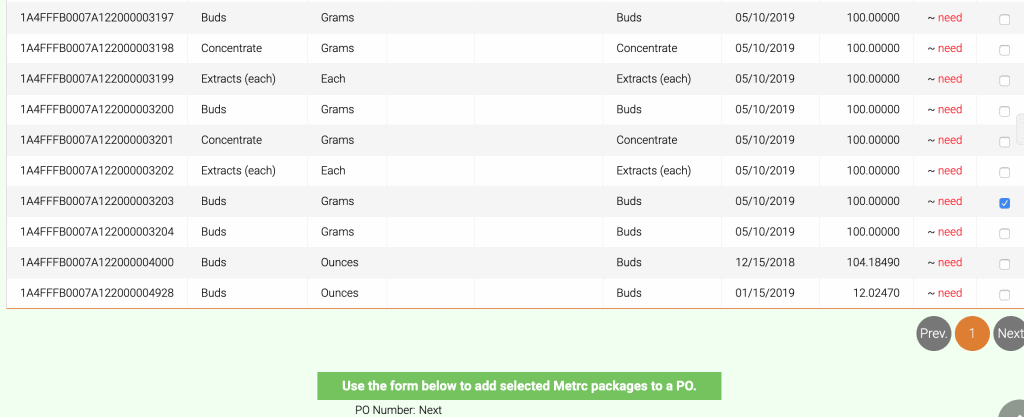 Complete all fields as usual for your PO. When you get to the following page, you will also complete all fields as usual, with your items, cost, and selling price. When you bring in an item that is Prepackaged, such as the Banana Kush- 1/2 oz below, a special message will appear at the bottom of the page. This is an alert to let you know the quantity will be converted to each on the PO.

As you can see on the PO below, the 100 grams of Banana Kush- 1/2 oz. was converted to each, so now the inventory in adilas is 7 units of Banana Kush- 1/2 oz.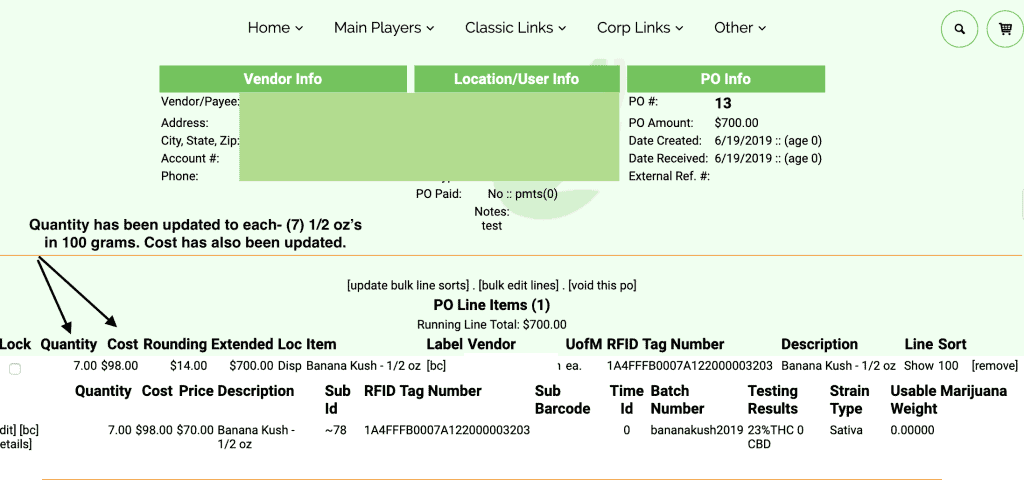 The inventory is ready to sell and easy to see how many 1/2 oz's are available.

As always, please feel free to reach out to your consultant, Technical Support at 719-966-7102, or email support@adilas.biz if you have any questions, concerns, or suggestions.