Adilas Is Pleased to Announce That We Have Been Awarded Full API Integration with the Michigan Metrc API Tracking System.
Michigan has elected Metrc as their Cannabis Tracking System.  Adilas makes connecting to Metrc easy with our powerful API integration tools.
Since Michigan has selected Metrc as the state inventory tracking and compliance system for marijuana establishments, effective April 14, 2017, all medical marijuana establishments in Michigan must report their establishment data to the State of Michigan via Metrc. This includes cultivators, product manufacturers, testing labs, distributors, and dispensaries.
If you are a qualified and licensed Cultivator, Product Manufacturer, Testing Lab, Distributor, or Dispensary in Michigan, you must sign up with the Metrc system.
Here are the simple steps to sign up for Metrc:
Ensure that you are a qualified and licensed Dispensary or Cultivation Center within Michigan by completing the Department of Licensing and Regulatory Affairs requirements. For help or instruction with this, please visit LARA
When you have acquired a Facility License Number and Badge Number, use your Company Name, Email, First and Last Name, and Phone number, to sign up for a training session on the Metrc website on the Michigan page or click here:
When the training and testing are complete you will be given access to Metrc.
Once connected, reporting to Metrc must be a constant consideration. Adilas makes this easy with our API integration tool set and connectivity that give you piece of mind knowing your reporting is consistently and immediately shared with Metrc based on the parameters you define using our powerful integration tools. All you need is an API KEY:
If you haven't yet procured an API key from Metrc, this is how you do it:
When you have completed the training and Metrc has awarded you access to the system by sending you a first time users login key, you can sign into the Metrc system by visiting www.metrc.com, selecting "Michigan" from the "Customers" dropdown menu, and clicking the "log in" link on the homepage.
Next, click the link "First Time Users, use your log-in key" at the bottom of the page and enter in your Metrc issued login key to set up your login user name and password.
Once logged in, click on the user profile in the top left corner and select "API Keys" from the pulldown menu.
Click the "Generate" Button and your new custom API key will be generated.
Copy that API by highlighting it and pressing Ctrl and C (on PC) or Command and C (on Mac) to save it to your system memory.

Once you have an API Key you can connect your Adilas system directly to Metrc: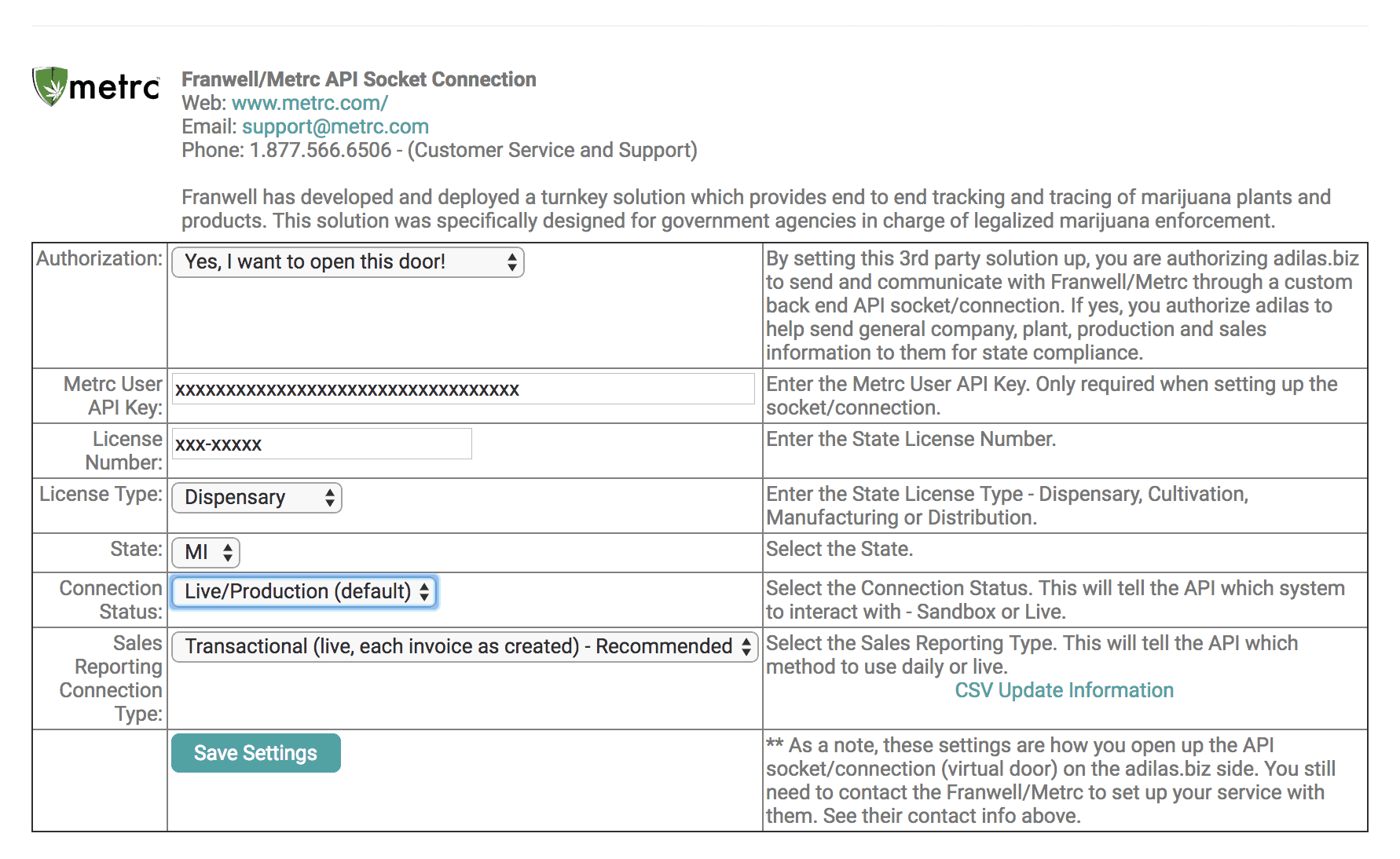 From your Adilas Classic Homepage, click on "More Options" and click on the link "3rd party solutions".
Scroll down the page until you see the Metrc logo.
Switch the Authorization field from "No Thanks – Keep this door closed" to "Yes – I want to open this door!"
Paste the new API key Metrc gave you into the field labeled "Metrc User API Key".
Type your license number into the field labeled "License Number".
Select "Michigan" from the "State" field.
Select "Transactional (live, each invoice as created)" or "Transactional by CSV Only ***additional steps required***" from the Sales Reporting Connection Type pulldown menu.
Click the "Save Settings" button.

Your Adilas system is now connected to Metrc.
Helpful Links:
Metrc Michigan Homepage: https://www.metrc.com/michigan
Michigan State Supplemental Guide: www.adilas.biz/metrc_MI_state_supplemental_guide.pdf
Metrc Michigan Training Sign Up: https://franwell.quickbase.com/db/bm4j98u9g?a=dbpage&pageID=2
Michigan Department of Licensing and Regulation: LARA
Metrc Training Videos: https://www.youtube.com/channel/UCcasu4orIpyqqEmQWWOkW0w
Metrc Support Email: support@metrc.com
Metrc Support Line: 1-877-566-6506