Adilas is pleased to announce that we have been awarded a production API key to Maine's Metrc system.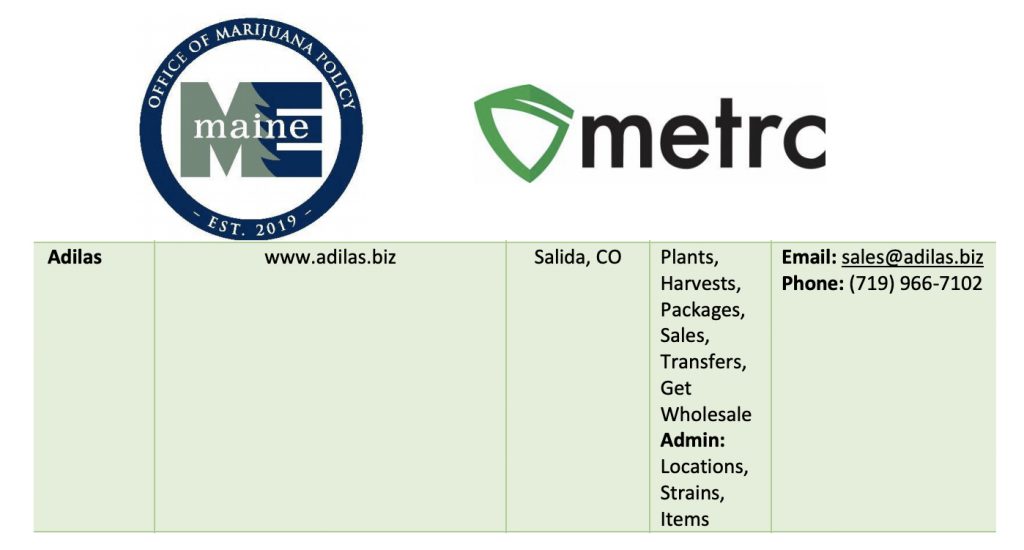 This opens the door for all of our Maine Medical & Recreational Cannabis partners, giving them the ability to connect to Metrc via API.
---
Here is how it works:
1. Navigate to the Maine page on the Metrc website and click on the link to the "Integration & API" found here: https://www.metrc.com/maine
2. Download, sign and return Link to API Agreement to metrc.API@maine.gov. This must be signed by a person with signature authority within the company, such as an Officer.
3. Request API developers documents, complete the information requested and email to api-info@metrc.com.
3. Attend a Metrc training class and complete the test.
4. Request API sandbox access. When you request access to the sandbox, you must specify the areas of Metrc to which you will need access. The areas will include where you are looking to be certified.
6. Complete the Capability Assessment in the sandbox. A document of the functionality assessment criteria will be provided to you when you submit your request. Requests should be submitted after completion of the Metrc training, not prior.
​After these steps are complete, Metrc will issue a vendor API key.
7. Once you have an API Key:
From your Adilas Dispensary Homepage, click on "More Options" and click on the link "3rd party solutions".
Scroll down the page until you see the Metrc logo.
Switch the Authorization field from "No Thanks – Keep this door closed" to "Yes – I want to open this door!"
Paste in the new API key that Metrc gave you into the field labeled "Metrc User API Key".
Type in your license number into the field labeled "License Number".
Select "License Type"
Select "ME" from the "State" field for Maine.
Select how you want to report sales to Metrc by selecting either "Transactional (live, each invoice as created)" or "Transactional by CSV Only". NOTE: We Highly Recommend using Live Transactional Reporting. (See this update for more information: CSV Reporting Information).
Click the "Save Settings" button.
Your Adilas system is now connected to Metrc.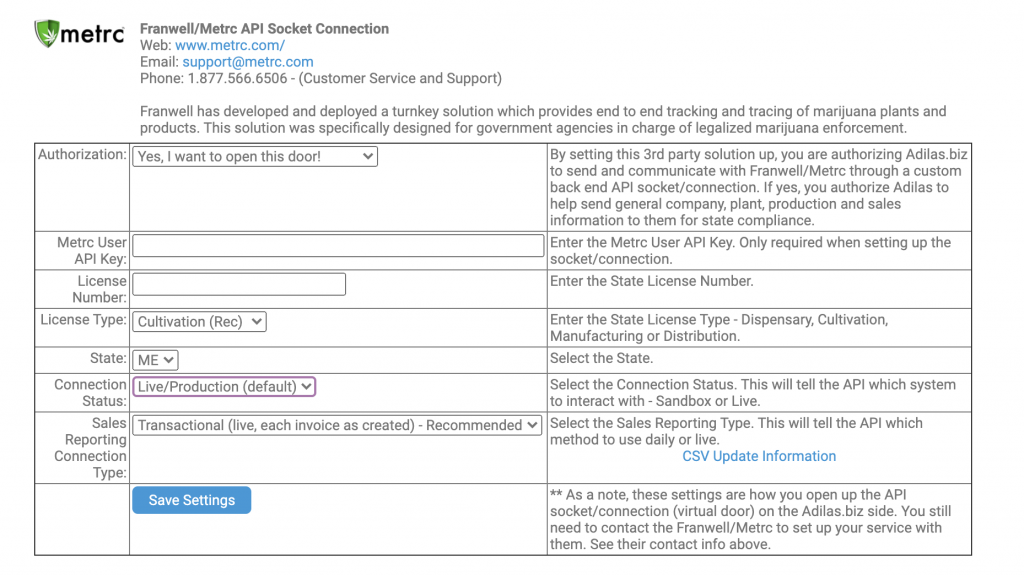 Helpful Links:
Maine Metrc Homepage: https://www.metrc.com/maine
Office of Marijuana Policy for the State of Maine: https://www.maine.gov/dafs/omp/
Metrc Instructional Videos: https://www.youtube.com/channel/UCcasu4orIpyqqEmQWWOkW0w
As always, please feel free to reach out to your consultant, Technical Support at 719-966-7102, or email support@adilas.biz if you have any questions, concerns, or suggestions.