We are a week away from our Adilas Conference Event, and as promised, we wanted to publish a blog post that describes all the fun things you can do when you are not attending the training event. If you have not registered yet, please click the button below to sign up ASAP so we can start to gather a final count of attendees. Reminder: the conference is to be held during the dates of Tuesday, June 8th – Thursday, June 10th, 2021 from 9 am – 5 pm each day at the Surestay Best Western Hotel in Salida, Colorado. We still have online/virtual seats available as well, if you cannot attend in person.
Wouldn't it be nice if you could get away for a little vacation while simultaneously writing off a business trip? Well, here is your chance. The charming town of Salida is centrally located in the Heart of the Rocky Mountains, providing a plethora of outdoor activities such as hiking, biking, rafting, fishing, and so much more. Or, for those that want a little rest and relaxation, the local hot springs, spas, and beautiful sights of the surrounding fourteeners are sure to help you recharge. The Arkansas Headwater Recreation Area, recognized for its world-class whitewater rafting, kayaking, and fishing, runs right through downtown, providing unique dining views and a way to cool off during the hot summer days. With something to do for everyone, this location makes it a perfect "work while you play" type of stay.
Below are a list of hotels, activities, restaurants, breweries, and wineries that the area offers.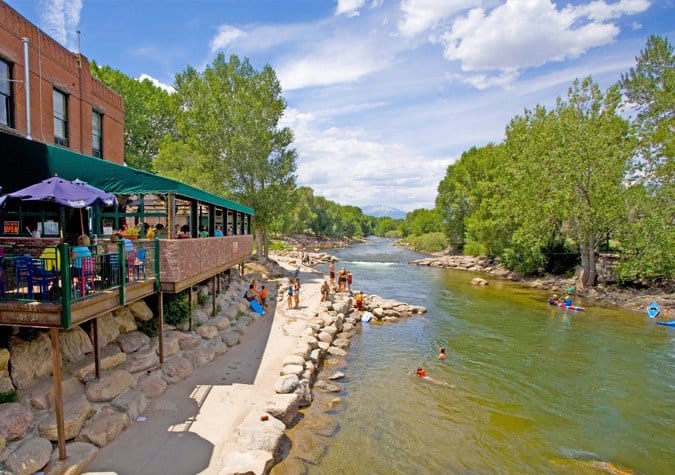 Hotels
SureStay Plus Hotel by Best Western
785 US-50, Salida, CO 81201 | 719-207-4514
Check prices, availability or book

Surestay Plus Hotel
Browns Canyon Inn
407 US-50, Salida, CO 81201 | 719-539-6651
Check prices, availability or book

Browns Canyon Inn

Limited pet-friendly rooms
Salida Inn & Monarch Suites
7310 West Us Highway 50, W Rainbow Blvd, Salida, CO 81201 | 719-539-2528
Check prices, availability or book

Salida Inn & Monarch Suites

Pet-friendly
Silver Ridge Lodge
545 W Rainbow Blvd, Salida, CO 81201 | 719-539-2553
Check prices, availability or book

Silver Ridge Lodge
Great Western Colorado Lodge
Activities
Salida Hot Springs Aquatic Center
410 W Rainbow Blvd, Salida, CO 81201 | 719-539-6738
Split Happens Bowling Center
7615 US-50, Salida, CO 81201 | 719-539-6436
Mount Princeton Hot Springs Resort (also has lodging)
Dvorak's Rafting, Kayak, & Fishing The Arkansas River
17921 US Highway 285, Nathrop, CO 81236 | 719-539-6851
Independent Whitewater Rafting
10830 CR 165 Salida, CO 81201 | 719-539-7737
Historic Downtown Shopping & Creative District
1st Street and F Street Downtown District
Captain Zipline & Aerial Adventure Tours
1500 County Road 45 Salida, CO 81201 | 1-877-ZIP-LINE
Royal Gorge Bridge & Park
4218 County Road 3A, Canon City, CO 81212 | 719-275-7507
Restaurants
Wallbangers Sports Bar & Grill – (Walking distance from Conference/Hotel)
720 E. HWY 50, Salida, CO 81201 | 719-539-9544
Amicas Pizza
127 F Street, Salida, CO 81201 | 719-539-5219
Boathouse Cantina
228 North F Street, Salida, CO 81201 | 719-539-5004
Currents Steak & Seafood
122 North F Street, Salida, CO 81201 | 719-539-9514
Los Girasoles
7595 US-50, Salida, CO 81201 | 719-539-3990
Grimo's Italian Restaurant
146 Main St, Poncha Springs, CO 81242 | 719-539-2903
Little Red Hen Bakery
302 G Street, Salida, CO 81201 | 719-539-2401
Patio Pancake Place
640 E Rainbow Blvd, Salida, CO 81201 | 719-539-9905
Mojo's Eatery
142 Old Stage Rd, Salida, CO 81201 | 719-207-6656
Moonlight Pizza and Brew Pub
242 F Street Salida, CO 81201 | 719-539-4277
50 Burger Shakes & Beer
445 E. Hwy 50, Salida, CO 81201
Benson's Tavern & Beer Garden
128 N F St, Salida, CO 81201 | 719-539-9391
Sweetie's Sandwich Shop
1269 W Sackett St, Salida, CO 81201 | 719-539-4248
Breweries & Wineries
Vino Salida Winery
10495 County Road 120 Poncha Springs, CO | 719-539-6299
Mountain Spirit Winery
15750 County Road 220, Salida, CO 81201 | 719-539-1175
Elevation Beer Company
115 Pahlone Pkwy, Poncha Springs, CO | 719-539-5258
Soulcraft Brewing
248 W Highway 50, Salida, CO 81201 | 719-539-5428
The 146 Taphouse
146 W. First St, Salida, CO 81201
If you have any questions or need assistance registering for the event, please do not hesitate to reach out to us via phone at 720-740-3076 or by email support@adilas.biz