Our new functionality automates the process so the system will push invoices to METRC whenever an invoice is created, and then every hour adilas will re-submit any invoices that failed to send to METRC. Additionally, every 15 minutes Adilas will re-sync the current day of records from METRC and will show METRC id's, report and allow voiding of any duplicate records, as well as update the statuses of all sales.
Taking a look at the new page, the filter invoice options at the top of the page haven't changed, except for the new 'sort by' options.

This interface has one set of columns that show all of the relevant information that will be pushed to METRC. The new information on this page is the status column and the message column. The status will tell you what actions are required. The message column will only have information if there is something you need to update, such as your unit of measurement, rfid tag, or voiding of duplicate invoices.

There is a legend with the list of statuses, as well as two action buttons for pushing invoice sales to METRC and pulling records from METRC. Below there is a list of what each status means.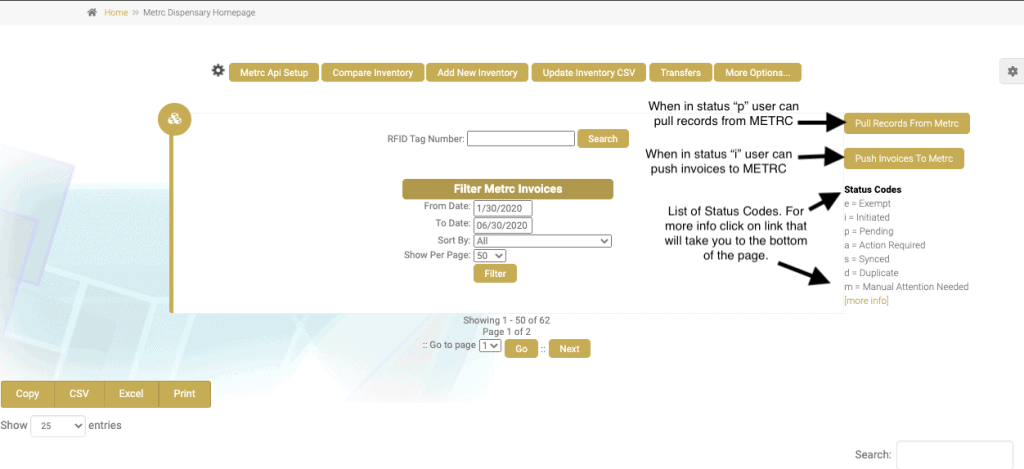 e – Exempt: Transactions that are not required to be reported to METRC, ie. non cannabis items or non-customer invoices ie. internal transfers.
i – Initiated: Submission of sale to METRC has started, but possibly hasn't been completed. No action is required. The resend will happen automatically every 15 minutes. **You may also click on "Push Invoices to METRC" at the top of the page if you would like to send invoices manually, but please note, if you do resend, this may cause a duplicate in METRC, which you will be able to see and resolve from Adilas instead of having to log into METRC to void manually.
p – Pending: Sale has been submitted to METRC, but no METRC id (confirmation) has been returned. This will also be re-synced automatically five minutes after every hour. You may also click "Pull Records from METRC" at any time from the top of the page. This action will not cause any duplicates, as you are only searching in METRC for your METRC sales receipt (METRC ID).
a – Action Required: This is an error created when Adilas and METRC do not reconcile ie unit of measurement, missing rfid tag, etc.. This indicates an action is required to fix the discrepancy before updating the status to initiated to allow the system to re-submit automatically. The details of the error will appear in the message column.
s – Synced: Sale has been submitted and METRC id/sales receipt has been returned. No action needed.
d – Duplicate: More than one METRC id is associated with an invoice. The user will be able to delete duplicates in METRC by clicking on the METRC id.
m – Manual attention needed: May require the user to investigate further in METRC to determine the next action. This will only occur if a sale is not synced after 24 hours. If sale did go through, then the user may enter the METRC id manually and change the status of this invoice to synced. If the sale did not go through, click the reset button to access change status page, and flip status to 'i'-initiate to start the automated process again.
If you need to access the invoice, you may click on the invoice number.

To view details regarding the transaction, click on the METRC id. This will show you the details in adilas and METRC side by side.

If you click on the status letter, you can see the history of the sale. Any changes that are made manually will show which user made the change. If the change in status is automatic, it will show as automatic.

As mentioned previously, if an invoice is marked 'd' for duplicate, you will receive a message that shows the METRC id or ids associated with the Adilas invoice. There will be buttons for each METRC id that, when clicked can be deleted.

If you click on the number in the METRC id column, it will take you to a page where you can see all of the information at once (1st screen shot below). You can decide which one you want to delete. We suggest the id's that are not currently associated with the invoice. Then it will take you to the delete page and you will click delete (2nd screen shot below).
If you click on the button in the message column, you will go directly to the delete page, which is viewed in the 2nd screen shot below.


If you are interested in using this new page, please contact your consultant or email cory@adilas.biz. We will send you an instructional pdf and schedule a launch date that works with your schedule. If you need further information, we'd be glad to schedule time to review in a virtual demonstration.
As always, please feel free to reach out to your consultant, Technical Support at 720-740-3076, or email support@adilas.biz if you have any questions, concerns, or suggestions.