Our Adilas' developers have been working hard to bring the newest look and feel to the system, and we are happy to announce the completion of this latest update.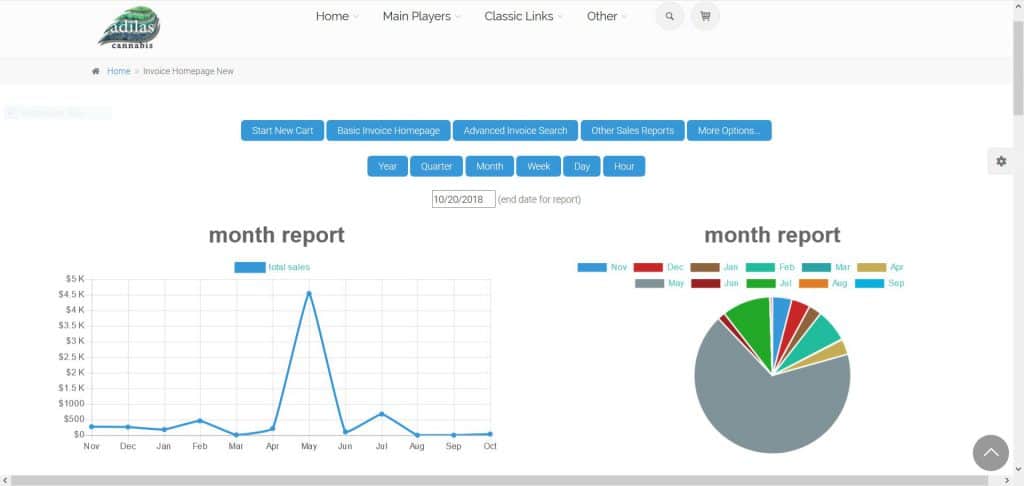 We are pleased to present a fully live reporting solution for your hourly/daily/weekly/monthly/quarterly/yearly sales.
This new Invoice Homepage includes graphs and charts to make reading and processing your data easier. It also now contains a monthly and daily "Quick Stats" section to show you how your day and month is progressing at a glance. This page still includes the most recent invoices for review, with the ability to do advanced searches for invoices from previous time periods.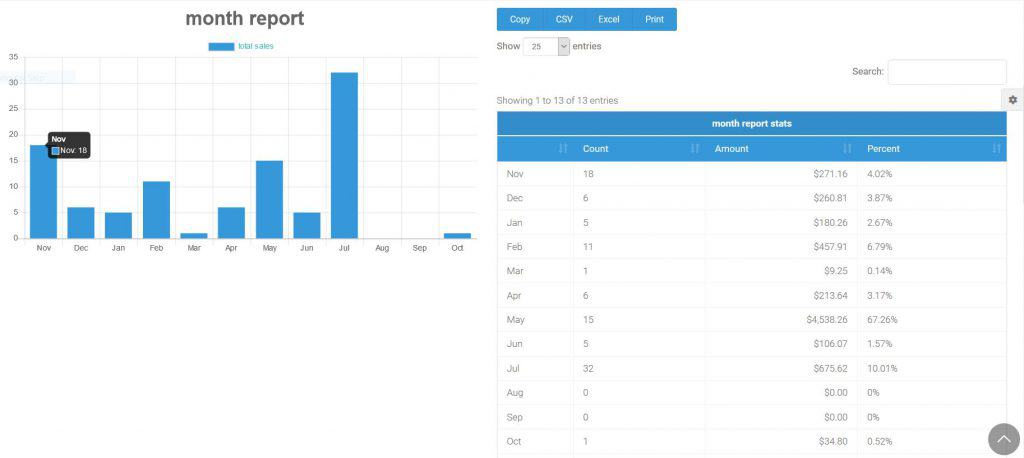 We hope you enjoy the new look and functionality of the Invoice Homepage, and that it succeeds in helping you keep track of and up to date with your company's growing sales.
Note: The old Invoice Homepage can be accessed via the 'Basic Invoice Homepage' button at top. Also, this functionality can be hidden per user.  Please see these permissions.
56.

Limit To My Invoices:

This permission is part of the main or basic invoice permission. If this permission is applied, the user will only be able to view and interact with invoices where he/she is either the main salesperson or other salesperson on the ticket or invoice. The user needs the basic invoice permission to make this work. This permission does limit access to invoices that don't match the salesperson criteria.
Id=141
57.

No Price Changes In Cart Mode:

This is a negative permission and actually limits a person access inside the shopping cart. The user will still be able to do normal cart functions such as add, small edits (no price changes), and then checkout. If assigned to a user, the user will not be able to get to normal invoice pages such as the invoice homepage, advanced invoice searches, add/edit invoice details, etc. This is a negative permission and locks the shopping cart down to minimal features.

The user will still need the basic invoice permission but this permission will limit how far they can go once an invoice is created.

Id=151
58.

View Only – Invoices:

This is a special negative permission that limits employee access to invoices to "read only". This makes it so that the employee is unable to make edits to an invoice once it is created.
Id=160
Please feel free to reach out to Technical Support at 719-966-7102 or email support@adilas.biz for any further questions, comments, suggestions, or help.