As many of you already know, the Colorado Marijuana Enforcement Division (MED) has set the conversions required for all edibles and concentrate sales. The State of Colorado regulations require that the new limits are as follows:
The State Daily Sales Limits for Recreational Sales are 28g of dry flower purchased daily.
(1g of concentrate, or 100mg of edibles/topicals = 3.5g of dried flower)
 The Gram Controller within the customer cart is set-up to help your budtenders control the quantity limits for each customer. This Gram Control will prevent any accidental sales over the Daily Sales Limit. When over-sold, the Gram Controller will turn red and upsize in font to draw the attention of the budtender. This is controlled by the Parent Item's setup/settings. Understanding that the conversions may be a little confusing, we have put together the following conversion chart and instructions to help.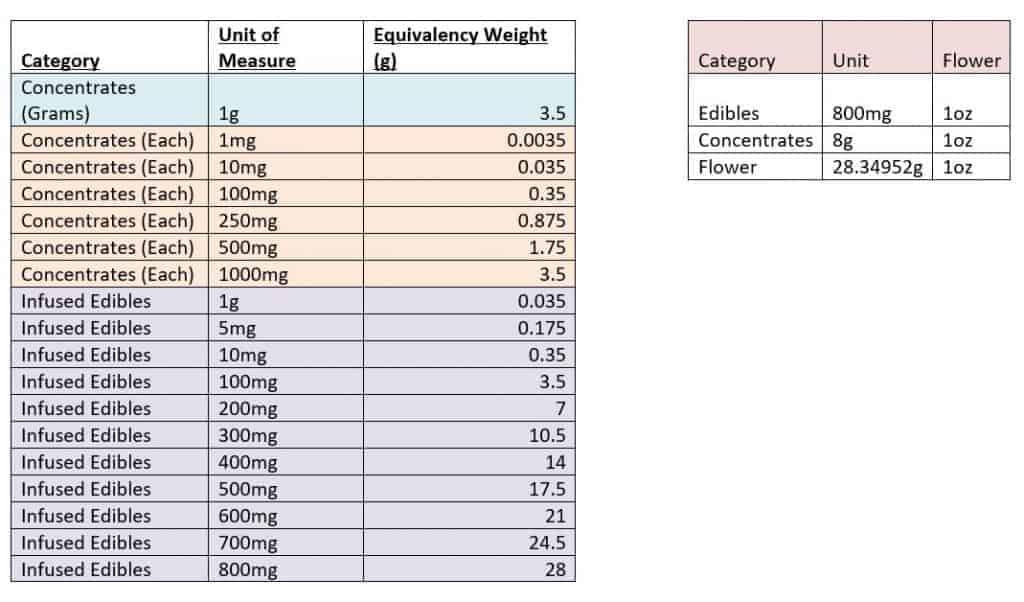 When setting up a new MJ Item, that needs to pull the exact weight as you enter it into the cart; please see the Adding New Item Instructional below, with no other steps needed. The gram controller will calculate the weight exactly as you enter it into the cart to sell.  (Ie. 3.5g of flower = 3.5g to the Gram Controller)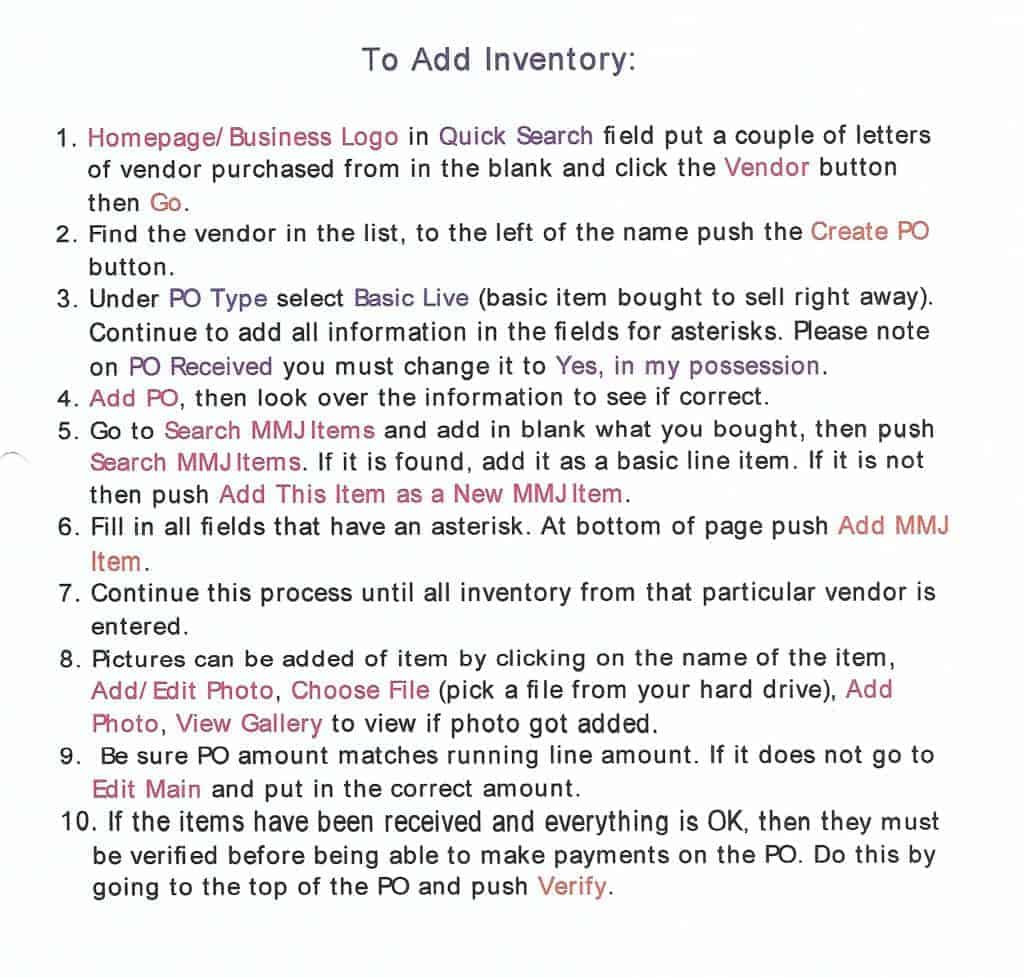 When adding a conversion for the specified items, you will simply need to fill in the "Weight" field also. This is the switch for the conversion of concentrates and edibles to the Gram Controller.  An example is shown below. This shows that 100mg Cheeba Chews come in as 1 ea. in Metrc, so they have to come in as an individual unit, with a Unit of Measure of Each, selling as the number of pieces bought within the cart.  With the new conversion, it needs to sell as 1 ea in Metrc, but the Gram Controller needs to recognize the equivalency as 3.5g. so that a customer is not allowed to over-purchase. To solve this, simply enter 3.5 into the Weight Field, leaving the Bin Field empty.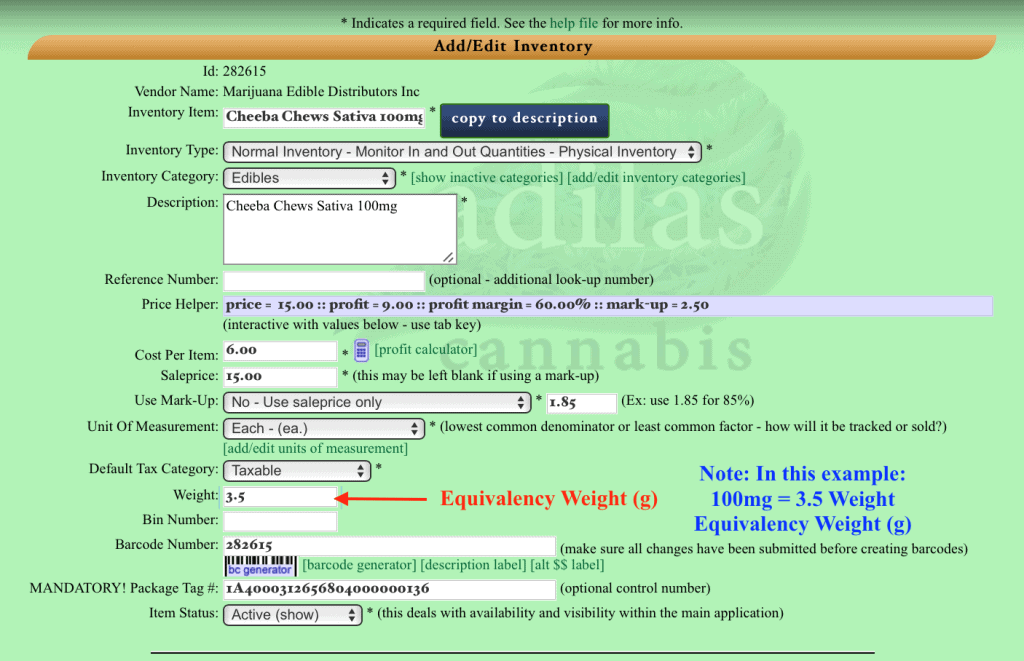 After setting your parent item conversion correctly, go to the Gram Controller to set your limits. To do this you will need to start a new cart, and then click the gear to the left of the Gram Controller itself.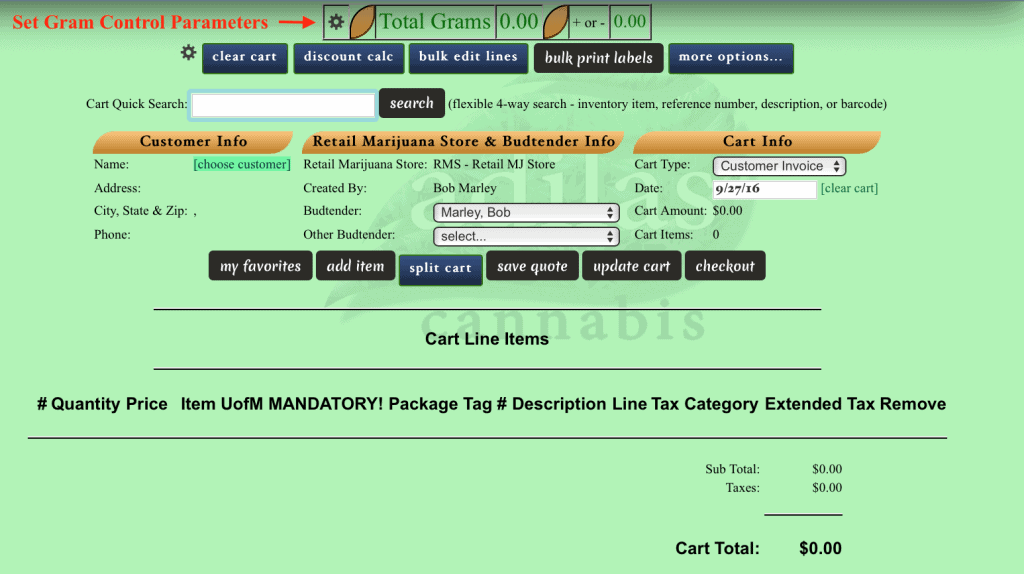 You will then need to set these limits to reflect your current State/County/City Daily Purchase Limits per customer. These will vary from state to state.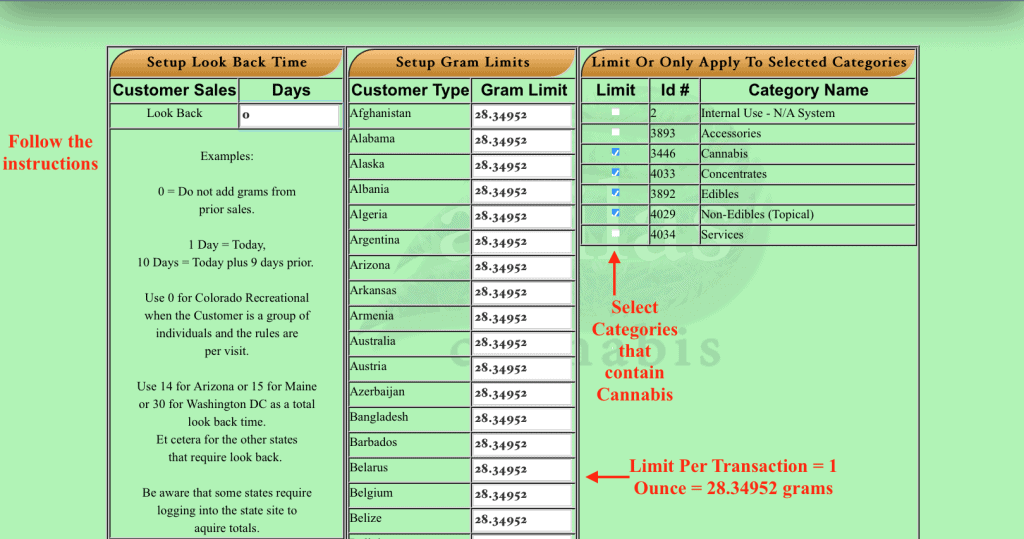 After entering these settings to meet your needs, save and return to your open cart. Bring your item into the cart to verify that the conversion is calculating correctly within the Gram Calculator.
Following these steps, will help ease the process of checking out a customer, while staying within your daily limits, and remaining compliant with the State and the Metrc System. As always, if you have any questions please feel free to contact your consultant, or reach out to Technical Support at 719-966-7102 or by emailing support@adilas.biz.